As Autosport launches the latest episode in its Race of My Life podcast series, we take a look back at a race in which Phil Hill claimed the 1961 Formula 1 world championship – the 1961 Italian Grand Prix at Monza
Race: 1961 Italian GP, Monza
Car: Ferrari 156 'Sharknose'
For the Italian Grand Prix, Ferrari entered a very full team. Wolfgang von Trips, Richie Ginther and I had the 120-degree engines, Giancarlo Baghetti and Ricardo Rodriguez the 65-degree ones – Rodriguez was having a try-out with the team.
He was pretty darn quick, too – second on the grid, next to von Trips. There was even a spare car for us.
The BRM V8 engine appeared for the first time too, and with it Graham Hill was quickest of the non-Ferraris, even beating Baghetti to fifth on the grid. Stirling Moss in the Rob Walker Lotus and Jack Brabham in the Cooper both had Climax V8s, but both also seemed to be suffering from overheating in practice. Moss eventually used the old four-cylinder engine in the race, as did the BRM.
Coming up to the race, 'Taffy' von Trips and I had a fairly even chance at the championship. He had 33 points, I had 29, and Stirling had 21. It was one of those 'if… but' situations.
I'd had a terrible, terrible weekend that year. Right from the beginning everything was wrong. On the first day of practice my gearbox as screwed up – you'd go first, second, then over to third and it'd go back to first.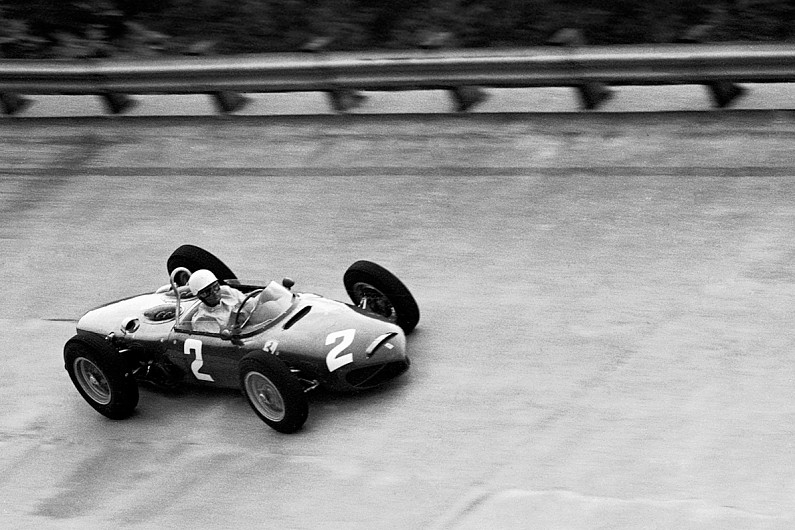 It took me 20 minutes to convince the powers-that-be that this was actually happening. Finally one of the mechanics had to get into the car to prove to himself that it was. Anyway, I had no real practice that first day.
I also went deaf in my right ear for some strange reason, and next morning I had to rush down to downtown Milano to get it cured. You didn't go to a doctor for that sort of thing there – you went into a sort of massage parlour with a bunch of nurses, one of whom took out a giant plunger and some hot water and shot it into my ear. I thought they didn't know what they were talking about – I'd never heard of anything like that before!
Anyway, back at Monza my car was slow. That was the first year of the 1.5-litre formula, and you could measure how fast the car was by how fast you went round the banking – that banking was a known deal and of course you were flat out all the way round. For example, 58.1 seconds was quick, 58.5s average – and my time was over 59s.
"I went on and won the race, and all the other Ferraris went out with broken valve springs. We didn't know von Trips was dead until after it was all over" Phil Hill
I busted my tail trying to put in a fast lap, but was back on the second row somewhere [fourth]. Even Ferrari came in and said I wasn't putting my foot down or something. The proof of the pudding to me was that the thing wouldn't even go around that silly ring!
So the night before the race I just demanded that they put in a new engine – the first time I'd ever…


Read MoreRace of My Life: Phil Hill on the 1961 Italian Grand Prix – F1