After losing Kyrie Irving in the Off-Season, Boston Celtics GM Danny Ainge got in Kemba Walker as his replacement. Not only has Walker continued his All-Star form from previous seasons, but also has taken a special role as a leader. Unlike Irving, he has placed the team in front of himself, and let his teammates shine. Making the most out of this is the upcoming superstar Jayson Tatum.
While talking about the Celtics chances to make the NBA Finals this year, Nick Wright from First Things First, said that he would have to emulate some of the greatest players of all time. "KD, LeBron, Duncan, Shaq & Hakeem. That's the full list of guys 23 or under who have taken their team to the Finals in the last 40 years. In order for the Celtics to make it, Jayson Tatum is going to have to join that list."
Later he tweeted, "It's not a knock on Jayson Tatum to acknowledge this simple fact that he's not yet ready to be the best player on a Finalist. All of NBA history agrees with me."
Wright was also unconvinced with all the 'hype' about Tatum. "Despite a sensational February, Jayson Tatum this year: Fewer PPG than Siakam, lower FG% than LaVine, lower 3-PT% than Kennard, lower PER than Sabonis. The rush to anoint him a superstar has been a bit hasty and overblown."
Can Jayson Tatum lead Boston Celtics to the NBA Finals?
Is Tatum capable of doing that? Hall of Famer Scottie Pippen says yes. Making an appearance on ESPN's The Jump, Pippen praised Tatum and had high expectations from him. "He started out this season sort of on a mission to separate himself from the other players who've grown and developed, as well as really showing some leadership by becoming an All-Star this season. I think if this team is to make a run, it has to rely on Tatum's ability to carry them offensively, and I feel like he's totally ready."
If a six-time NBA champion has faith in you, it certainly is a good sign. Tatum is currently having his best season so far,  averaging 23.6 points, 7.1 rebounds, and 2.9 assists. Both he and Walker have been good leaders for their inexperienced team. On multiple occasions this season, Walker has stepped up as a real leader and taken the blame for losses, while also crediting all his players.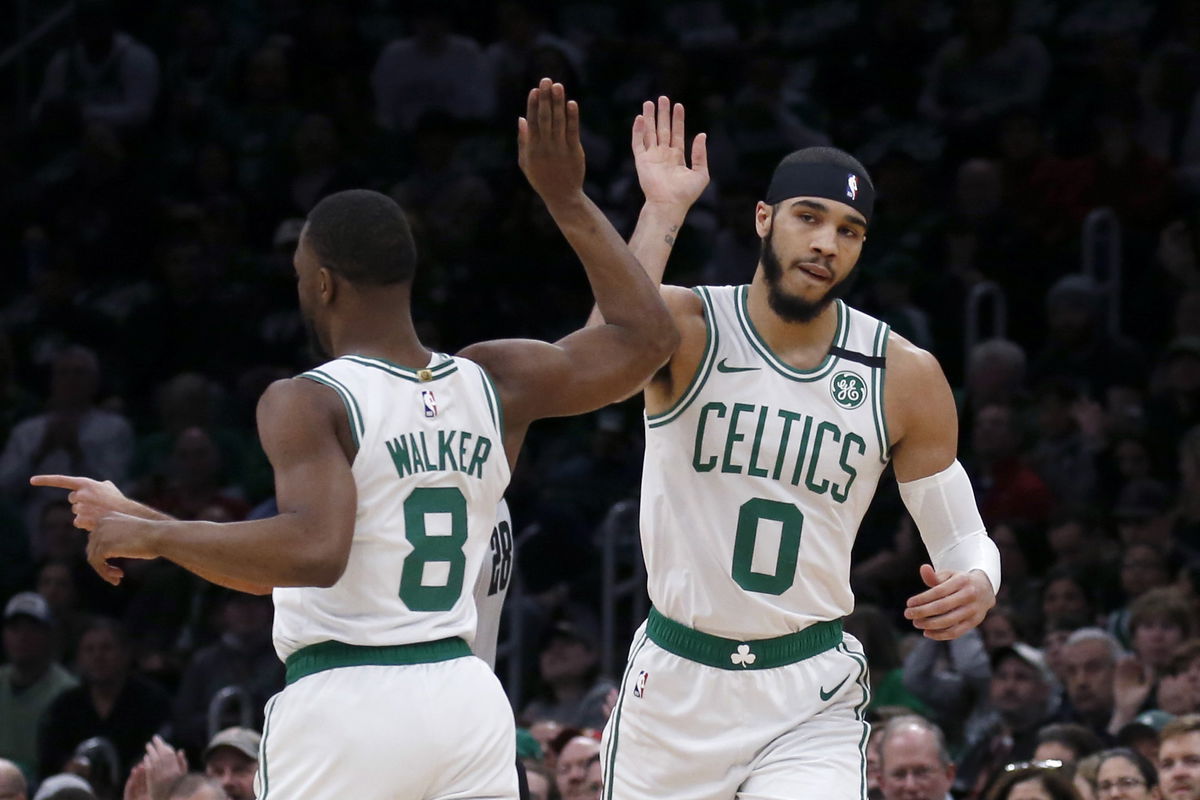 So far the Celtics have been solid, holding the third seed. To advance to the NBA Finals, they would have to potentially beat the Toronto Raptors and the Milwaukee Bucks. In the regular season, they had a 2-1 record against the Raptors and a 1-1 record against the Bucks. They will bo hoping Tatum and Walker can step up and lead them to a first NBA title since 2008.


Read More"He's Not Yet Ready": NBA Analyst Dismisses the Hype Behind Boston Celtics'